Booming Games is a pretty popular game producer, and that applies to players, online casinos and other game providers and content aggregators. This is what has made the company available on a vast variety of sites across the world. Their games are developed entirely in-house, but that's not everything the company is up to.
Besides producing great games, Booming Games is highly interested in individual casinos. This has allowed them to add a degree of customisation to their casino games that isn't necessarily available via other producers. Paying attention to the back-end is a must these days, and you'll be happy to hear that free spins, bonuses and even no deposit bonuses are part of the package here.
About Booming Games
The company is based in Malta, from where it has operated since its foundation was established in 2014. Malta is an iGaming hub, which provides the company not only with one of the most trustworthy online gambling licences but also with staff that is arguably some of the most experienced professionals available. And all of this shows in the way the games have been built, taking advantage not only of the latest trends but also of in-house innovations and complex models to ensure unique gaming experiences.
Booming Games has managed to build quite a large network of partners over the years. Companies like Relax Gaming, SkillOnNet, Playtech and many more haven't hesitated to bring these games to your favourite online casinos. Not only are the games available in the key markets of Europe, but they can be enjoyed in Australia and other faraway jurisdictions. Today Booming Games is definitely a global player, and that's a good thing, especially for players looking for no deposit bonuses.
Online Slots Specialist
The company is entirely centred around online slots. You won't find, at least for the moment, any table games, live casino products, video poker titles or lottery games amongst these products. This has allowed them to pour all their creativity into a single online casino game type, and they have certainly done that with gusto.
Booming Games is not just interested in games that look different, they have to play out differently too. And it's that interest in mathematical models that have made many players fall in love with these online slots. At the same time, graphics and themes have not been forgotten. They have come up with something that is clearly different, even if they at times use familiar backdrops as symbols and settings. There are some classic setups, with sevens and diamonds and fruits, others borrow from popular holidays or historical stories. Yet there are also games that use popular tropes, entertainment or even seemingly random themes. Suffice to say, there's plenty of variation to enjoy.
Let's Invent Something New…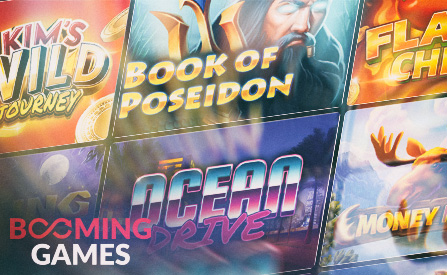 …seems to have been the leading idea behind the cool special features you're going to witness in these online slots. You can be sure to run into the familiar free spins, multipliers, wilds, symbol avalanches and other popular bonuses too. But, the idea of going a bit further than this is definitely not unknown to Booming Games. Expect multidirectional paylines, interactive symbols, unlimited respins, and all sorts of combinations of different modifiers.
At the same time, you can be sure that the company is forevermore at the forefront of technology. Looking for mobile no deposit bonuses? Well, you can be sure that these games all work perfectly well on mobile devices, and are often specifically designed for that platform. Continued cooperation with online casinos and other game producers ensures that the games enjoy cutting edge influences outside the company too, whilst also ensuring full compatibility with all sorts of systems. And you know what the latter means: more bonuses!
Booming Games No Deposit Casino Bonus
Bonus spin campaigns are something that Booming Games excel at, which bodes well for players who fancy enjoying a free spins no deposit bonus. Pick a no deposit casino and enjoy the fact that one of the leading reasons behind the popularity of these slots are the ample bonuses